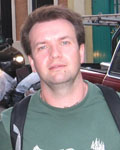 He received his PhD and M. Sc. in Computer Science from Federal University of Rio Grande do Sul, UFRGS, Brazil (2009, 2002). B.Sc. in Informatic at the UNIJUI University, Brazil (1999). Currently, he is Professor and researcher at the Post Graduation Program on Mathematical Modelling at the Department of Exact Sciences and Engineering at UNIJUI University and member of the Applied Computing Research Group (GCA). His research interests include Mathematical Optimization, Graph Theory, Hypergraph Partitioning, and Search Based Software Engineering.

Research Interest
Search-based Software Engineering
Optimization techniques
Cloud Computing
Students
PhD Students (4)
• 

Regis Rodolfo Schuch
(Start 03/2020 ↦ Current) 

• 

Angela Mazzonetto (as joint supervisor)
(Start 03/2018 ↦ Current) 

• 

Cássio Luiz Mozer Belusso
(Start 05/2015 ↦ End 08/2019) 

• 

Alexsandro Queiroz Lencina (as joint supervisor)
(Start 03/2015 ↦ Current) 

MSc Students (12)
• 

Maira Simoni Brigo (as joint supervisor)
(Start 05/2019 ↦ Current) 

• 

Caroline Maiza Dapper
(Start 04/2019 ↦ Current) 

• 

Taís Portela Arenhart
(Start 04/2019 ↦ Current) 

• 

Francisco R. Lima (as joint supervisor)
(Start 09/2016 ↦ End 04/2019) 

• 

Félix Hoffmann Sebastiany
(Start 08/2016 ↦ Current) 

• 

Jussiano Regis Pacheco
(Start 03/2016 ↦ End 08/2018) 

• 

Adriana Rosélia Kraisig (as joint supervisor)
(Start 03/2015 ↦ End 03/2017) 

• 

Francine Freddo
(Start 03/2015 ↦ End 04/2017) 

• 

Francisco da Silveira
(Start 03/2015 ↦ End 06/2017) 

• 

Leandro Fritzen Klem (as joint supervisor)
(Start 03/2015 ↦ End 06/2018) 

• 

Márcia Maria Horn
(Start 07/2014 ↦ End 08/2016) 

• 

Mauri José Klein
(Start 07/2013 ↦ End 08/2015) 

BSc Students (5)
• 

João Pedro Lemos Petter
(Start 08/2016 ↦ End 07/2017) 

• 

Dener Éden Krebs
(Start 03/2015 ↦ End 03/2016) 

• 

Amanda Preissler
(Start 03/2014 ↦ End 03/2016) 

• 

Gabriel Freytag
(Start 03/2013 ↦ End 03/2015) 

• 

Guilherme H. Schiefelbein Arruda
(Start 03/2013 ↦ End 03/2015) 

Publications
Projects
Title:
22nd Microelectronics School – EMicro 2020 and 35th South Symposium on Microelectronics – SIM 2020
Funding Agency:
CNPq and FAPERGS (ARC and AOE)
Call:
Grant:
403509/2019-0 and 19/2551-0002126-7
Amount:
11,845.60 Reais
Start:
01/01/2020
End:
10/05/2020
Summary:
The Microelectronics School and the South Symposiun on Microelectronics are events supported by the Brazilian Computing Society – SBC, and by the Brazilian Society of Microelectronics - SBMicro, IEEE CAS Rio Grande do Sul Chapter, and IEEE CEDA (Council on EDA) in the Southern Region. The main goals of these events are: a) Promote the diffusion of knowledge on design of electronic and computational systems in integrated circuits, considering that this knowledge is strategic for the mastery of the design process of electronic systems; b) Allow that students and engineering professionals to have contact with cutting-edge microelectronics research topics currently in vogue at Brazil and abroad; c) Integrate the microelectronics community, providing the dissemination of the main academic activities developed by universities and the dissemination of the state of the art; d) To provide a discussion forum on human resources training in the area, necessary for the development of the electronic goods and services industry in the country; e) Propose a discussion forum and / or public policy proposals for the development of microelectronics in the South and in Brazil.
Researchers:
Sandro Sawicki (Coordinator)
Rafael Z. Frantz
Fabrícia Roos-Frantz
Benjamim Zucolotto
Title:
Through-Silicon Via Reduction (TSV) in 3D VLSI Circuits focused on Bulk and SOI Technologies
Funding Agency:
FAPERGS - Fundação de Amparo à pesquisa do Estado do RS
Call:
Grant:
10/0216-7
Amount:
7,000.00 Reais
Start:
01/01/2010
End:
31/12/2011
Summary:
The main objective of this research project is to implement a design flow to reduce the number of vertical interconnections (TSV or 3D-vias) in 3D VLSI circuits using Bulk and SOI technologies. We seek to minimize the area of a 3D VLSI circuit and analyze the impact on the area when applied to different manufacturing technologies. The effects generated by reduction help the insertion of thermal vias, as well as reducing the total size of the connections (which directly affects the timing of the circuit). Initially, the emphasis will be on random logic blocks (cell level) with small granularity, being possible to extend to larger granularities, such as IP level.
Researchers:
Sandro Sawicki (Coordinator)